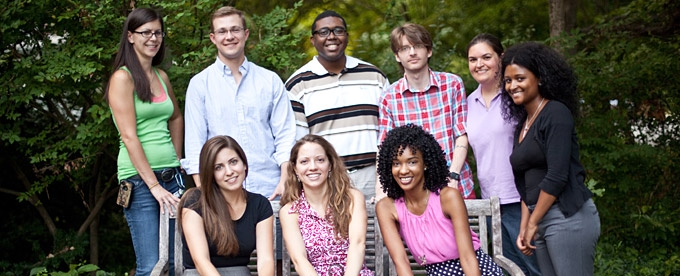 Your peers are here to help.
The School of Law believes strongly in the value of collaboration.  We all learn from one another. To this end, every academic year, upper-level students are available to first year students who would like additional one-on-one assistance.  If you would like to make an appointment with one of the students below, please email Claudia Diamond.
Anna Sholl

Originally from Pittsburgh, second year student Anna Sholl moved to Baltimore with her family when she was eight years old.  She remains, however, a die-hard Steelers fan (we won't hold that against her!).  She went to UMBC for college and then worked for a few years before going to law school.  Her first job after college was working at Wal-Mart as an assistant manager ("oh, the stories I can tell," she says about her time there); she then moved to commercial real estate.  Anna had initially planned on attending law school five years ago but lacked the "courage to apply."  When she realized that her LSAT scores would soon expire, she took the plunge and applied for entrance in Fall 2011. "All in all coming to law school has been one of the best experiences in my life," she says.

Kevin Harp 

Although Kevin grew up in North Carolina, he intends to stay in Baltimore after law school and work in criminal law.  Kevin was an art teacher prior to law school and, despite being a somewhat "non-traditional" law student considering his background, Kevin reports that the "decision to come to the UB Law is very high on the list of the best decisions I've ever made."  When he's not busy studying, Kevin enjoys playing competitive trivia and watching as many movies as time will permit. He looks forward to assisting his "fellow students in achieving both academic and personal success," as he strongly believes that having a good work-life balance is essential to having a successful career as a law student and ultimately as a lawyer.  One interesting thing about Kevin: his two favorite TV shows growing up were Matlock and The A-Team; as a consequence, he loves litigation and seeing a "crazy but well-crafted plan come together."

Hannah Levin

Second year student Hannah Levin is from Owings Mills. She majored in English and Philosophy at University of Maryland and graduated in May 2011. She now lives in Federal Hill with three roommates by Riverside Park. She is an active member in the legal fraternity, Phi Alpha Delta ("PAD'") and a member of the University of Baltimore Law Review . In her spare time, she enjoys watching movies, trying new restaurants, and traveling. Her guilty pleasure?  "Watching bad cooking shows on Hulu."  Hannah looks forward to working with students on perfecting law school time management and studying skills.

Jeff Maylor

Jeff was born in Baltimore.  He left his wonderful hometown, however, after high school to attend the University of Connecticut. Graduating from college in 2005, Jeff then  worked at the New York County District Attorney's Office as an investigative analyst in the Firearms Trafficking Unit. He moved back to Baltimore to attend UB and plans on staying in the City after graduation. Jeff is a third year student and is the Editor-in-Chief of the University of Baltimore Law Forum ."

Mallory Bitar

Mallory is a second year student who survived first year by getting muddy and exploring the woods on her 4-wheeler as well as spending time with her two pit-bulls. She graduated in 2007 from Keene State College in New Hampshire where she majored in Business Management. Because of her background in business, Mallory intends to practice business law.  Although she is originally from New Hampshire ("YES I am a Patriots fan and do say "wicked."), she "does not hate on the Ravens, but [does] draw the line for [her] alliance once playoffs start!"  Mallory lives in Baltimore County and intends to stay in the area to practice law after graduation.

Joi Akuche

Joi, having lived in Maryland her entire life, not surprisingly calls Maryland "the greatest state." She moved to Baltimore from Southern Maryland for law school but plans on staying in the Baltimore region to work for the government.  Ever since she was a child, Joi knew that she wanted to be a lawyer.  She always imagined herself being in front of the judge and rubbing elbows with the likes of Matlock and Perry Mason. In her spare time Joi enjoys watching as many reality television shows as possible and spending time with her family and friends. "While my time at UB has definitely changed my vision of what type of lawyer I want to be, deciding to attend UB is among the best decisions I have ever made.  I have made great contacts and have had many doors opened as a result of attending UB." 

Tonya Bland

Tonya was born and raised in Clinton, Maryland. She earned her undergraduate degree from the University of Maryland, College Park where she majored in criminology and criminal justice. Not surprisingly, upon applying to law school and up until the end of her 1L year, she was certain that she wanted to practice criminal or public interest law.  Although she is still very interested in these fields, after she interned this summer in the Prince George's County Attorney's Office, she is now interested in other areas of law too! Summing up her first year experience, Tonya remarked that "it was an incredibly rewarding experience and I am still amazed at how much learned; I also tried to take advantage of as many academic resources as possible as you need all the assistance you can get!"  

Shannon Baker

Shannon is a third year evening student, hoping to concentrate in family law and mediation.  She was a business management and French dual major at Susquehanna University and interned and studied abroad in Paris, France.  She is presently the Regional ADR Programs Director for the District Court of Maryland's Alternative Dispute Resolution Office in Baltimore City and Harford County, where she directs day of trial and pretrial mediation and settlement conference programs.  Originally from York, Pennsylvania, Shannon purchased a home there during her first year of law school and has been commuting back-and-forth across state lines ever since.  Previously a teaching assistant for Professor Easton's ILS/Contracts course, Shannon is excited to continue working with and assisting evening students.  Currently, Shannon is the President of Parents in Law School (PILS), a position she holds courtesy of her 3-year-old stepson, Chance. When not working, studying, or chasing after a toddler, Shannon is in training for a half marathon.  She also enjoys acting, volunteering at DreamWrights Youth & Family Theatre in York, and belting show tunes during the many hours spent in her car. 

Kenneth Kirkwood

Kenneth, a second year student, was born in Mississippi and grew up in Maryland "for the most part."  When he's not doing work for school,  he loves to play guitar.  Kenneth went to UMBC for college where he majored in history with a concentration in African and African-American history.  He is the first in his family to attend law school and understands how intimidating the whole process can be.  When asked about what was great about his first year, Kevin said "the good news is [that] no student has to go through it alone; I certainly didn't. I was fortunate to have upper-level students who guided me during my first year."  He now looks forward to giving back to 1Ls coming in.