From left: Chief Judge Robert M. Bell, Dean Ronald Weich and Clinic Director Leigh Goodmark attend the Spring 2013 Swearing In Ceremony.
Please enjoy a recording of our most recent swearing in ceremony.
Recognized by U.S. News & World Report as a national leader in clinical education, the University of Baltimore School of Law provides as many as 200 students each year the opportunity to participate in a broad range of clinical programs and externships. These programs provide both day and evening students with a broad range of experiential learning opportunities as licensed student attorneys (clinics) and closely supervised law clerks (externships).
While students in the clinical program at the University of Baltimore School of Law are receiving unmatched, real-life practical experience, they also are generating significant results that benefit Baltimore, Maryland and beyond. The school's location in to Baltimore and near Washington, D.C. has permitted students the opportunity to participate in externships in a wide range of governmental, public interest and private sector placements. Clinics represent, on average, 200 low-income clients every year, including adults, children, neighborhood associations and other nonprofit organizations.
Under the supervision of faculty, most clinics provide students with the full range of representation to individual clients. Clinic work includes interviewing, counseling, planning case strategy and appearing in court or administrative agencies. Other clinics, such as the Community Development Clinic, which are particularly attractive to our evening students, allow students to engage in transactional work.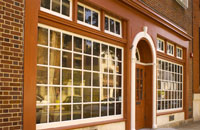 Finally, most clinics also allow students the opportunity to engage in more systemic work including drafting and testifying in support of legislation and participating in state and national task forces on issues such as child neglect, domestic violence, protection for consumers, and the promotion of affordable housing.
The Clinical Law Office offers excellent student work areas, and interviewing, trial practice and seminar rooms with advanced video and other technical support. The clinic facility is run as a law office with a teaching and public service mission.