If you want to be "practice ready" when you finish your legal education, the UB School of Law is the place to start.
 What's happening at UB Law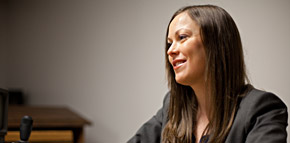 In May 2013, the School of Law moved into the new John and Frances Angelos Law Center.
The Office of Law Admissions awarded $1.3 million in scholarships to new students.
UB School of Law's Clinical Program is ranked 23rd in the country by U.S. News & World Report's Best Law Schools 2013.
Results from the July 2012 Maryland Bar examination are in! The passage rate for UB Law graduates taking the exam for the first time was 85%. The state average for first-time takers was 81%. The February 2012 Maryland Bar examination results were 81% for UB first-time takers and 67% for the state. Congratulations to our graduates!
The Truancy Court Program developed by the UB School of Law Center for Families, Children and the Courts Program was recognized by the Ash Center for Democratic Governance at the John F. Kennedy School of Government, Harvard University, as a Bright Idea.
The Office of Career Development's  Experience in Legal Organizations (EXPLOR) Program placed 188 first-year students in summer externships.
At the University of Baltimore School of Law, you will be immersed in the real-life aspects of the legal profession from your first day of orientation to your last day of classes.
Whether you're engaged in one of our clinical programs or challenged by our faculty, you'll understand why our graduates are known for hitting the ground running when they launch their legal careers.
Learn more about the School of Law