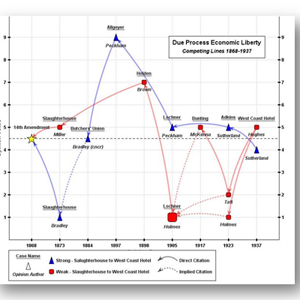 SCOTUS maps are laid out on an X-Y axis. The individual data points (circles, triangles, square, etc.) represent Supreme Court opinions. The short name of the case containing the opinion appears above the data point. The name of the opinion's author appears below.  The X-axis represents the year the case was decided, and the Y-axis represents the number of votes the opinion received (for the proposition tracked).
All points above the dashed line received at least five votes and are thus majority opinions. Arrows connect cases and represent relationships. As currently conceived, solid arrows from later cases to earlier ones represent a "direct citation" relationship. Dotted arrows represent a relationship implied by the user.  
The Mapper was originally developed as a result of Prof. Colin Starger's research on the influence of dissenting opinions over the Supreme Court's due process jurisprudence. For a thorough treatment of this issue, see Prof. Starger's article, "Exile on Main Street: Competing Traditions and Due Process Dissent," in the Summer 2012 edition of the Marquette Law Review.
For a recent application of SCOTUS Maps, see Prof. Starger's analysis of the Maryland v. King case on the American Criminal Law Review's website.


The Supreme Court Mapping Project is an original software-driven initiative currently in Beta development. The project, under the direction of University of Baltimore School of Law Assistant Professor Colin Starger, seeks to use information design and software technology to enhance teaching, learning, and scholarship focused on Supreme Court precedent.
The SCOTUS Mapping Project has two distinct components:
Enhanced development of the Mapper software. This software enables users to create sophisticated interactive maps of Supreme Court doctrine by plotting relationships between majority, concurring and dissenting opinions. With the software, users can both visualize how different "lines" of Supreme Court opinions have evolved, and employ animation to make interactive presentations for audiences.
Building an extensive library of Supreme Court doctrinal maps. By highlighting the relationships between essential and influential Court opinions, these maps promote efficient learning and understanding of key doctrinal debates and can assist students, scholars, and practitioners alike. The library already includes maps of key regions of doctrine surrounding the Due Process Clause, the Commerce Clause, and the Fourth Amendment.
The SCOTUS Mapping Project is in Beta-phase development and is currently seeking Beta participants. If you are interested in participating in the Beta phase of the project, contact Prof. Starger.