Class visits and campus tours are available by appointment. To schedule your visit contact the Office of Law Admissions at 410-837-4459 or by email at lawadmissions@ubalt.edu.
The last day for a spring 2013 class visit is April 26th
Tours for the new John and Frances Angelos Law Center begin on May 1st.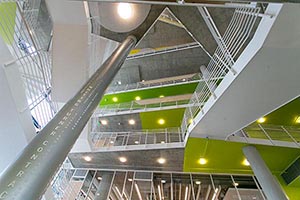 interior shot of the new Angelos Law center
Appointment Instructions
Please arrive 15 minutes prior to the class or tour time.
Come to Law Admissions, Room 103.
Notify the Office of Law Admissions if you require an accommodation.
Appointment confirmation and parking information will arrive by email.
Counseling appointments are available weekdays from 9am to 4pm. 
Summer Schedule
 
CLASS SCHEDULE
TOUR SCHEDULE
Day
Time
Class
Tour Time
Monday
 
 
 
 
  1:30
 Am. Legal History
10:00
 
  1:30
 Civil Procedure I
12:45
 
  1:30
 Law & Economocs
  2:15
 
  3:00
 Am Legal History
 
 
  3:00
 Critical Legal Theory
 
Tuesday
 
 
 
 
 10:30
 Civil Procedure II
 9:45
 
 10:30
 Constitutional Law I
12:45
 
   1:30
 Constitutional Law I
 2:15
 
   1:30
 Property
 2:45
 
   3:00
 Contracts I
 
Wednesday
 
 
 
 
 10:00
 Constitutional Law I
  9:15
 
 10:00
 Property
12:45
 
  1:30
 Civil Procedure II
  2:15
 
  1:30
 Am. Legal History
 
 
  1:30
 Law & Economics
  
 
  3:00
 Am. Legal History
  
Thursday
 
 
 
 
 
  1:30
 Constitutional Law I
  9:45
 
  1:30
 Property
 12:45
 
  1:30
 Property
   2:15
Friday
 
 
 
 
10:00
 Constitutional Law I
 9:15
 
10:00
 Property
12:00