Campus tours and counseling appointments are available by appointment. To schedule your visit contact the Office of Law Admissions at 410-837-4459 or by email at lawadmissions@ubalt.edu.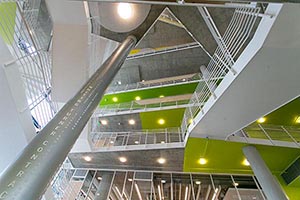 interior shot of the new Angelos Law center
Appointment Instructions
Please arrive 15 minutes prior to your scheduled appointment.
Come to Law Admissions, Suite C on the 1st floor of the Angelos Law Building.
Notify the Office of Law Admissions if you require an accommodation.
Appointment confirmation and parking information will arrive by email.
Counseling appointments are available weekdays from 9am to 4pm. 
Summer class are only held during the evening.  Please visit the evening schedule if you wish to visit a class.
 Counseling appointments may be scheduled 30 minutes prior to tour or immediately after the tour.
| Day | Tour Time |
| --- | --- |
| Monday - Thursday | 9:00 |
|   | 10:00 |
|   | 11:00 |
|   | 12:00 |
|   | 1:00 |
|   | 2:00 |
|   | 3:00 |
|   |   |
| Friday | 9:00 |
|   | 10:00 |
|   | 11:00 |
|   |  12:00 |
|   |   |