You can make a difference.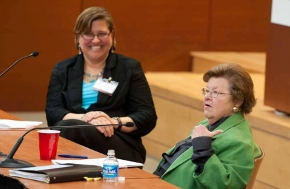 U.S. Senator Barbara Mikulski, dean of the female senators and longest serving woman in U.S. Congress, was a past participant in the Center on Applied Feminism's annual Feminist Legal Theory Conference.
The School of Law's centers aim to foster academic leadership, community engagement, and advocacy for innovative legal policy. The centers showcase their efforts through special events, reports and programs.  
You can take part in the School of Law's efforts to educate and empower change in the legal system by participating.